Conference Papers and Presentations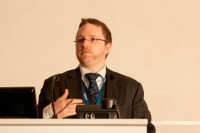 This is a collection of CC-BY-SA licensed papers and presentations that I have delivered at conferences in Australia and South East Asia over the past few years. These presentations cover a variety of topics including ICT management, Agile Methods, Business Intelligence and several purely technical courses. If you would like me to speak at a conference on one of the topics below (or any other topic), please contact me.
Business and ICT Leadership
These papers cover a variety of Business and ICT leadership topics from agile business management to open source licensing.
Agile
Business Intelligence
Agile Business Intelligence - Based on common agile management methods, this presentation discusses the processes and workflows required to manage a Business Intelligence team or project in a flexible, iterative and agile manner.
Historical Courses (for reference only)
HISTORICAL: Management Analytics and Visualisation - Utilising the best and worst examples of information visualisation, we will look at new ways for senior executive to understand and visualise the different types of information produced in their organisation.
HISTORICAL: Open Source Toolchain - This presentation looks at the applications available to help project planning, resource distribution, staff communication, source control, database development, unit testing, issue tracking, compiling, and distribution.
HISTORICAL: Commercial Open Source Software - Obsolete presentation from 2006. How do you make a profitable business writing software that you have to give away?
HISTORICAL: Data Warehousing with Open Source Technologies (or why not to use Data Marts in 2010) - This session will discuss the open source technologies that can be brought together to provide data warehouse capabilities at a fraction of the setup costs for a traditional environment.
HISTORICAL: Data Warehousing HOWTO - This paper will cover the design methodologies used in designing a data warehouse and the open source software available to bring it all together.
HISTORICAL: PostgreSQL Tips and Tricks for Developers - The roles between the developer and the DBA is often blurred. This paper covers many tips and tricks a developer can use to improve and optimise an application by understanding and writing better SQL.
HISTORICAL: Writing an SQL parser with PyParsing - Obsolete presentation from OSDC 2008. I no longer present this paper.
HISTORICAL: Using Dojo Dijits and the Dojox Grid (Javascript framework) - Obsolete presentation from OSDC 2008. I no longer present this paper.
Sample Feedback From Attendees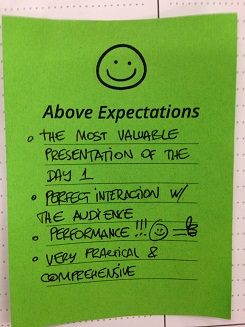 "Controversial topic, delivered gently and charismatically. Though raises more questions (which is good)" - Anonymous feedback from AgileEE
"The most valuable presentation from day 1. Perfect interaction with the audience. Performance ++. Very practical and comprehensive." - Anonymous feedback from AgileEE
"Awesome speaker, very interactive" - Game Services Group
"Good and valuable advice from [Evan]. Clarity and style of presentation was great" – Dell
"Simplified way of presenting concepts & we could relate to our work environment" - ST Ericsson
"[Evan] has extensive experience & was able to give practical insights & applications" - Misys